Why your patients will LOVE Slate
Clean the Embrasure Area easily with our Gum Sweeps

Strategically placed ribs and bristles sweep and remove the plaque and food particles that normally remain undisturbed after brushing alone. It's as easy as sliding the floss head back and forth from tongue to cheek.

Unique Design for those with Braces

Our orthodontic flosser heads provide the ability to go between the archwire and teeth for a much simpler flossing experience. The narrower bracket sweeps on the orthodontic heads and bristles allow patients to not only floss effectively but also clean their brackets that would typically go untouched. 

High-Quality Multi-Use Floss Heads

Our reuseable floss heads are designed to last. Depending on how tight the user's tooth contacts are and whether their teeth or fillings have sharp edges, our floss heads have proven to last between one to three weeks.

Anatomically-Shaped, 3-Blade Tongue Scraper

Two rows of rubber bristles lift and rake the hairs of the tongue in preparation of the final straight blade that squeegees and removes all the nasty gunk. The shape of the tongue scraper mimics the natural curvatures of an extended tongue.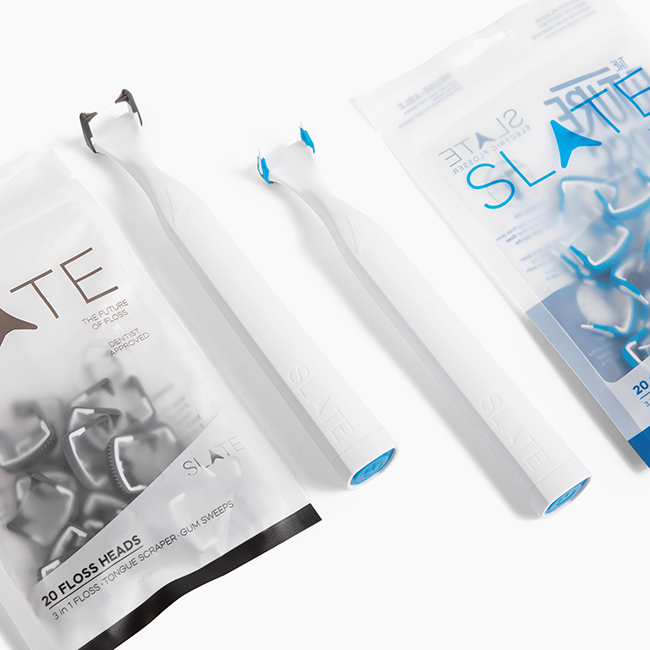 Try Slate for Yourself
Take advantage of our professional discount. It's the best way to learn just how simple & enjoyable flossing can for your patients.
Sign Up
★★★★★ Flossing made EASY!!
"I'll start off by saying, I've been a registered dental hygienist for 12 years. I'm always looking for new products to help my patients achieve optimum oral health. This 3 in 1 electric flosser is such an awesome device to help reach into those contact areas! I have super tight contacts and often break regular floss picks. The refill heads have a very sturdy floss that I've been able to easily adapt between my teeth without shredding the floss. The gentle vibrations feel like a nice massage with the gum sweeps. This flosser is a MUST if you have trouble with standard flossing, and easily gets into those hard to reach molar areas!!!"
-Amanda O
Dr. Snyder explains the benefits of Slate