Meet the dentist who HATES cavities
Women Run & Dentist Invented

Slate Electric Flosser was launched by Dentist Dr. Danny Snyder and Co-Founder, Brynn MacLennan Snyder, through an online Kickstarter campaign that reached its goal in one day and was in the top 10% of Kickstarter campaigns.

Tested by over 500 Hygienists

Tested by over 500 registered dental hygienists in the United States, the Slate Electric Flosser was rated by 73% of them as better than anything that is available on the market.

Revolutionary Technology

The SlateElectricFlosser leverages high-grade floss, together with sonic vibrations at 12,000 vibrations per minute, and the company's patent-pending Gum Sweeps™ technology to easily access, massage, stimulate and clean the gums and teeth.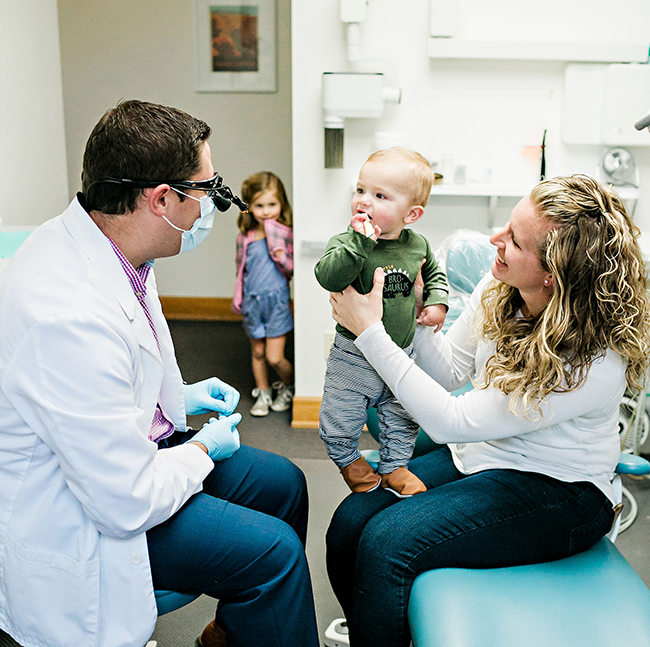 Exclusive Offers for Professionals
Receive discounts on Slate products and become apart of the Slate professional network.
Learn More
★★★★★ Flossing made EASY!!
"I'll start off by saying, I've been a registered dental hygienist for 12 years. I'm always looking for new products to help my patients achieve optimum oral health. This 3 in 1 electric flosser is such an awesome device to help reach into those contact areas! I have super tight contacts and often break regular floss picks. The refill heads have a very sturdy floss that I've been able to easily adapt between my teeth without shredding the floss. The gentle vibrations feel like a nice massage with the gum sweeps. This flosser is a MUST if you have trouble with standard flossing, and easily gets into those hard to reach molar areas!!!"
-Amanda O
Braces Floss Head

With 5 children the Snyders knew they had to do something to help people in braces. After having a patient with a cavity between each tooth after removing her braces, Dr. Snyder design the Orthodontic Floss head to clean off brackets and the tooth so kids could easily floss.

Reduces Plaque & Bacteria

The goal of flossing is not to just pass a piece of string between our teeth. The goal is to remove as much of the plaque and bacteria from between our teeth as possible. The design of our patented Gum Sweeps mimics the shape of our teeth and gums in the spaces between teeth.

Improving Oral Health

Toothbrushes have gotten very good at cleaning the biting surfaces and the sides of the teeth, which is exactly what they are designed to do. But even after a toothbrush does its job, tons of harmful bacteria are left behind, primarily in the spaces between teeth and on the surface of the tongue.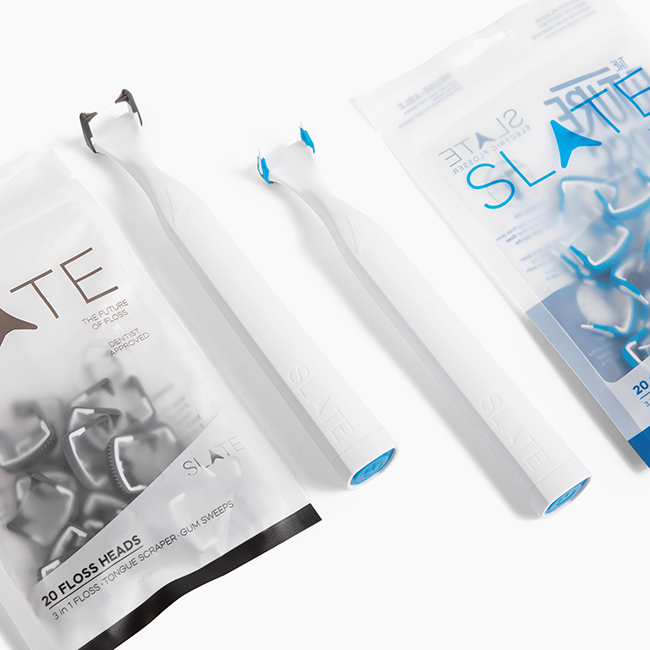 Try Slate for Yourself
We all know we should floss, yet most of us don't. Those who do floss rarely do it correctly. The SLATE Electric Flosser is the only 3-in-1 tool you need, in addition to your toothbrush, to achieve ideal oral health
Shop