FREE Shipping. 30-Day Return Policy.
Slate Electric Flosser Starter Kit
Dental professionals designed slate to clear the entire space between teeth thoroughly. Our gum sweeps remove as much plaque and bacteria from your teeth as possible.

The Starter Bundle includes:
- One Electric Flosser
- Five Floss Heads
- Two AA batteries

Stock is Limited very few units remaining.
Free of wax, teflon, PFA's and PTFA's
Meet the dentist behind Slate Electric Flosser
Even when your toothbrush does exactly what it's designed to do, millions of harmful bacteria remain in your mouth that can cause cavities, gum disease, bad breathe, and a whole bunch of general health issues.
Designed and approved by dentists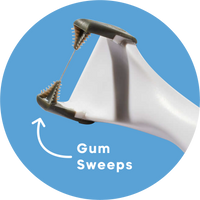 Bristles that massage, stimulate, and clean the gums from plaque and food particles.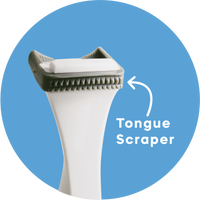 Remove up to 30% more odor causing bacteria than a toothbrush alone.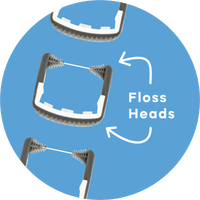 Our heads are free of wax, teflon, PFA's and PFTA's. The gentle vibrations clean
Hear from some of our 10k+ customers!
"I'm married to a dentist and both of us are throughly enjoying our Slate Flossers. Having the wedges to massage and clean the gums is a game changer. We will be sharing Slate with family, staff, and patients. Thanks for making such a great product!"
"I'm an inconsistent flosser, but this has gotten me flossing every morning for a month and a half. It sits by my electric toothbrush and the whole brushing/flossing process takes less than 4 minutes."
"At my last dental cleaning I was told I'd potentially need surgery to flush out gingivitis. I immediately started using the Slate Flosser. I just went back and shocked them! The gum spots that were 5's and 6's were now 2's and 3's. I got to avoid a more serious situation by using Slate."
Make a Difference with Every Purchase
Slate floss heads can keep almost 700 floss picks from hitting the landfill per year.
Frequently Asked Questions
Need any assistance with your Slate Electric Flosser Starter Kit? Our dedicated team is here to help. Contact us at support@slateflosser.com for quick and reliable support.
How long does a head last?
Our multi-use Floss heads are made for just that, multiple uses! They are intended to be used until worn, but we recommend changing them every week. Slate heads are reusable just like your toothbrush, just rinse & dry.
What is your floss made of?
We use woven floss with 450 strands. It is not coated and doesn't contain any chemicals. It is ultra-high molecular weight polyethylene, and it is teflon-free.
What size batteries does the Flosser use?
The Slate Flosser fits AA batteries. The brands that fit best are Duracell, Kirkland, or Sam's club. Rechargeable batteries unfortunately do not fit.
We offer free shipping on all orders over $39.99 and all subscription orders in the United States. For all other orders, shipping is $4. International orders will have to pay shipping, duties and fees.
What is your return policy?
If you decide you'd like to return your Slate product, please contact us at support@slateflosser.com to initiate a return within 30 days of purchase. We offer a full product cost refund (less a $7.99 shipping label cost) within 30 days of your purchase.
Save even more by upgrading your family's oral care with the Slate Electric Flosser Family Pack.